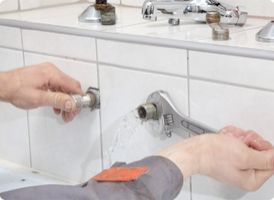 At our company we understand how important it is to address plumbing problems as quickly as possible. That's why we are prepared to handle your emergency plumbing any day, anytime in London. Just give us a call and we'll send a team immediately. If you need an emergency plumber, our company is the best choice. We can fix drains, sinks, showers, toilets and pipes both in commercial and residential buildings. We try to get the job done without disrupting your activities or causing a mess.
If you are interested in our service, we recommend you get in touch with us. We'll help you fix your plumbing issues once and for all.
Reliable Emergency Plumber
We've got the best technicians in London that work very hard and efficiently no matter what the problem is or how long it will take to solve it. Our plumbers are trained, qualified and very experienced.
Steps to our plumbing services:
Quick response
Plumbing issue diagnostic
Repairing plumbing issue
We use specialised equipment to detect and tackle plumbing problems such as leaky taps and toilets, minor and major clogs, burst pipes and others. We can fix anything in a very effective way and we promise the results we yield are long-lasting and excellent. You will be able to get back to your routine without wasting much time.
When something goes wrong with your plumbing, it's difficult to do your everyday tasks. It disrupts your daily life to such an extent that you no longer feel comfortable in your own home. We understand all the inconveniences that plumbing problems cause, that's why we do our best to solve the problem very quickly but still reliably.
Let us explain to you what happens after we arrange a service. We'll visit your place promptly, detect the problem and explain in detail what we can do about it. We will provide the best solution for your situation and inform you about the price. If we have a deal, we'll use our modern equipment to deal with the problem. We promise to get the job done in a speedy manner.
When we complete the task, we'll arrange payment and leave. Our service is available for residents of London. If you need an emergency plumber, be sure to get in touch with our customer support centre and make an appointment straight away. We will respond quickly.